Asynchronous Statistical Multiplexer with Remote Supervisory Control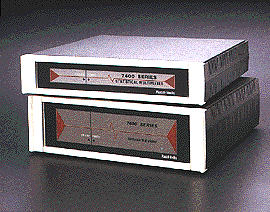 4, 8, 12 or 16 asynchronous channels

Internal 9600 bps leased line modem, external 56Kbps DSU or external 33.6kbps leased line modem

Automatic dial backup and restoral for leased line failure

Help modem automatically reports alarms and failures

Complete diagnostics

VT100 control port for local and remote setup and control

Field tested and proven reliability

115/230VAC universal power supply
Network Versatility
The 7400-Series statistical multiplexer is designed to operate over either the Public Switched telephone network (PSTN) or 2-/4-wire leased lines, offering the efficiency and cost savings of multiplexing for small, local dial-up networks, as well as larger leased line systems.
Complete System Flexibility
The 7400-Series multiplexer can be configured for 4 channels and expanded up to 16 channels as your system grows. When leased lines are not required or before they become available, Zypcom dial-up modems allow the 7400 mux to operate in a dial-up mode. In a leased line installation, the mux can configured for a 9600 bps internal modem or 33,600 bps external Zypcom modem. The 7400-Series mux has no hard straps or switches, all options are set by terminal entry and stored in nonvolatile memory. The 7400-Series mux automatically adjusts to the speed of the connected DTE and compensates for any speed difference at the remote channel. And it's compatible with most asynchronous DTE's.
Automatic Dial Backup and Line Restoral
To safeguard critical data links, the 7400-Series mux optionally bypasses leased line failure with automatic dial backup using the dial-up network (PSTN). The internal 9600 bps or external 33,600 bps modems automatically switch to the PSTN when the leased line fails, then automatically switch back to the leased line when the line is repaired.
Local and Remote Control
The 7400-Series mux provides complete local as well as remote supervisory control so you can manage and troubleshoot your system from anywhere in the world. Supervisory control functions (local and remote muxes) can be accessed from a terminal connected to any mux or through an internal diagnostic help modem over the PSTN. All access methods are password protected for greater system security. The internal diagnostic help modem can be configured to call you automatically if a problem occurs.
Zypcom Quality
The Zypcom 7400-Series multiplexer combines network flexibility with performance features that ensure the reliability and security of your data communications links.
Specifications
7400-Series Multiplexer
Channels 4, 8, 12 and 16 asynchronous channels
Channel Speeds 9600, 4800, 2400, 1200, 600, 300 and 110 bps; autobaud between 9600 and 110 bps
Data Format 7, 8 ,9 or 10 bit bytes, odd, even and no parity, stop bits 1, 1.5 or 2
Channel Interface EIA RS-232-D, V.24/V.28, female 25-pin D-sub connector
Flow Control Xon/Xoff-send only, Xon/Xoff-receive only, Xon/Xoff-send and receive, RTS/CTS; NOTE: Each channel is set individually
Channel Priority Priority levels 1, 2, 3, 4; NOTE: Each channel is set individually
Compression Run length; NOTE: Each channel is set individually
Composite Link Speed: External 56,000bps to 1200bps
Protocol: Full duplex, modified HDLC
Error Correction: 16-bit CRC block check with ARQ
Buffer: Speed conversion buffer and satellite transmission buffer
Telco Interface: Dial-up, 2-/4-wire leased line
Dimensions 7440: Height: 3.5"; width: 17.5"; length: 15.0"; weight: 13 lbs.
74080: Height: 5.25"; width: 17.5"; length: 15.0"; weight: 16 lbs.
Power Requirements 115/230VAC, 50/60Hz, 55 W (fully loaded at 115VAC)
Temperature Operating: 32°-122° F ambient; Store: -4°-158°F; Humidity: 5-95%NC
Compliance FCC Part 68, Part 15_Class A, UL listed
Ordering Information
The 7400-Series multiplexer base units (7440 and 74080) do not include a modem. Either 7440 or 74080 includes a control port cable (P/N 91009-076) and an external modem cable (P/N 91009-077). Optional 7402 channel cards will add 4 more channels to the multiplexer.

Models Description
7440 4 channel mux, expandable to 8 channels
74080 8 channel mux, expandable to 16 channels
Options
7402 4 channel expansion card (maximum 1 for 7440 and 2 for 74080)
7401D Internal diagnostic modem
Modems
7496 9600 bps internal modem
Z34-SXL External 33,600 bps dial-up or leased line modem